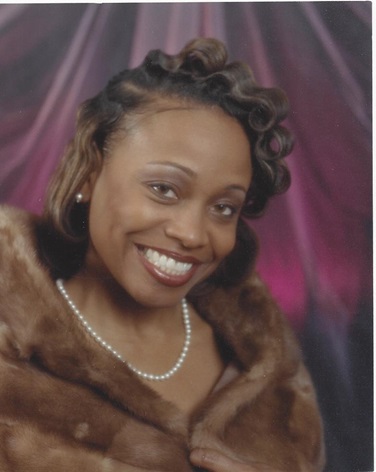 Linda L. Scotton  was born in Americus, GA the 2nd of four girls to Eather Mae and Van Bomar Cornelous. At three months of age her family moved to Chicago, IL where she eventually attended Chicago Public Schools. There she excelled in cheerleading throughout her elementary and high school years. Upon graduation from high school, she was awarded an academic scholarship to Northwestern University in Evanston, IL. There she was a member of the Northwestern University Cheerleading and Women's Gymnastics Teams. In 1982, she graduated from Northwestern University with a Bachelor of Arts degree in Sociology and Biological Sciences. In 1985, she graduated from the very first class of Physical Therapy at Thomas Jefferson University in Philadelphia, PA. There she was one of three African Americans and received a Bachelor of Science in Physical Therapy. While there she was a Dean's List student and was awarded the Faculty Award at graduation.
In 1983, her grandfather, the late Rev. Van Cornelous Sr. united her in Holy Matrimony to her college sweetheart, Rev. Danny Scotton, Sr. who presently serves as Pastor of Alpha Baptist Church in Willingboro, NJ. They reside in Burlington Township and are the proud parents of two sons, Danny, Jr., a Princeton University graduate currently pursuing a Masters of Divinity at Palmer Seminary and Terrance, a Northwestern University graduate and current law student at Chicago Kent School of Law.
Lynn has worked as a physical therapist for over 32 years. She is the former Director of Physical Therapy and Director of Rehabilitation Services at Millhouse Trenton Convalescent Center. She has served as Clinical Director of Physical Therapy for several skilled nursing facilities in South Jersey. She has worked in various hospitals; outpatient and rehab centers specializing in geriatric care, wound care and home care. She is presently working for Virtua Home Care as a home care physical therapist meeting the needs of home bound patients of all ages. She counts it a blessing to touch so many lives being a cheerleader for the Lord as she attempts to improve the lives of others. She is also owner of Scotton Physical Therapy Services.
Lynn is a Life Member and Silver Star of Alpha Kappa Alpha Sorority, Inc. and is active with Pi Mu Omega Chapter where she has served as Founder's Day Co-chair, Martin Luther King Breakfast Co-chair and Chair, Chaplain, Historian, Scholarship Committee member, North Atlantic Regional Conference Delegate and Choir member and Centennial Boule Delegate. She serves on the Trustee Board of the Youth Achievers' Committee Inc. She is a member of the American Physical Therapy Association (APTA) and the APTA Minority and Mentoring Council. She serves on the Northwestern University Alumni Admission Council interviewing prospective students from New Jersey for admission to Northwestern University. She has had the pleasure of mentoring several students in elementary, high school and college in our community. She has presented at several Career Seminars throughout the community including Alpha Baptist Church, McGinley and Twin Hills Elementary Schools and Youth Achievers' Committee, Inc.
She has been a member of Alpha Baptist Church for over 29 years and was an active member of Tabernacle Baptist Church for 3 years before receiving her position of First Lady of Alpha Baptist Church. On June 7, 2015 she was honored to graduate from the 2nd class of Ministry Training at Alpha of the Evangelical Training Association receiving a Diploma of Ministry Training and a Church Ministry Certificate from Alpha Baptist Church and an Advanced Church Ministries Certificate from ETA. At Alpha, she has served as President of the Scholarship Committee, as member of the MYNDS Mentoring Committee and First Aid Ministry. She currently directs the Youth Band, is a member of the Echoes of Joy Choir, Daughters of David Praise Dance Ministry, Adult Sunday School and teaches Youth Bible Study for 1st-3rd grade students.
Her favorite scripture is Romans 8:28,
"And we Know that in all things God works for the good of those who love him, who have been called according to his purpose".